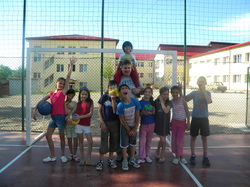 At the orphanage
State run, we have been blessed to work here weekly since 2008.

Started working in Romania in 2003, with services in Nasaud for four years, and three other locations in 2006 and 07.

Teaching over 300 collage hours, helping other missionaries and nationals all along, and in Hungary, Moldova and the Ukraine.

Than in 08 moving to Zalau, with services there and three other locations for several years. Now building a house in Baia Sprie with services in Baia Mare.
Earnestly contending for the faith which was once delivered unto the saints.
Make much of Jesus every day, to everyone. Preaching Jesus Christ, crucified, buried, risen and soon coming again.
Sowing and watering the seed (the word of God) so God can give the increase.
Opening their eyes, baptizing, and teaching them to observe all things Jesus has commanded us.
Disciple God's children daily, to do likewise, and organize local, Independent Baptist churches for God's glory and honor.
Helping other local churches, missionaries and national pastors anyway we can.

Serios susținând credința care a fost cândva dată către sfinți.

Arătând mult pe Isus zilnic, oricui. Predicându-l pe Isus Cristos crucificat, îngropat, înviat și care în curând vine iar.

Semănând și udând sămânța (Cuvântul lui Dumnezeu) ca Dumnezeu să poată da roada.

Deschizând ochii lor, botezând, și învățându-i să țină toate pe care Isus ni le-a poruncit.

Ucenicizând pe copiii lui Dumnezeu zilnic, ca să facă în același chip, și să organizeze biserici baptiste independente locale pentru gloria și onoarea lui Dumnezeu.

Ajutând alte biserici baptiste, misionari și pastori naționali oricum putem.








---